Our organization delivered 2,659 vehicles in 2022, to 745 unique zip codes.
Everything more than 4 hours' drive time gets quoted through Right Way Auto Transport. Everything under that is quoted at $200.00 per hour.
If you've been shopping for a new Ford truck or lightly used Ford SUV, chances are you've been looking for a reputable local auto dealer that you can trust. Terry Henricks Ford is a reliable car dealer that our customers turn to time and again for hassle-free car sales, transparent auto service and more. Visit our Ford dealership to get to know our team and let us help you with all of your needs!
Looking for good reasons to shop for a new Ford Explorer or Escape at our local Ford dealer vs. a third-party seller or online car retailer? For one thing, we're committed to making you a long-term customer, so going that extra mile is an important part of how we do business. Plus, our expert finance team can help you navigate the auto financing process, so you get a payment plan that works well with your budget. The same can't be said for national online car selling website or third-party sellers. And if you aren't convinced, check out our reviews online to see what our customers say!
"Best car buying experience ever! They are over 2 hours away from me but I will continue to make the trip for every new/used vehicle purchase going forward. I worked with Adrienne and she was amazing from start to finish. Very competitively priced and competitive trade-in values. They went above and beyond to make everything perfect. Thanks again!"
- Ryan Cefalu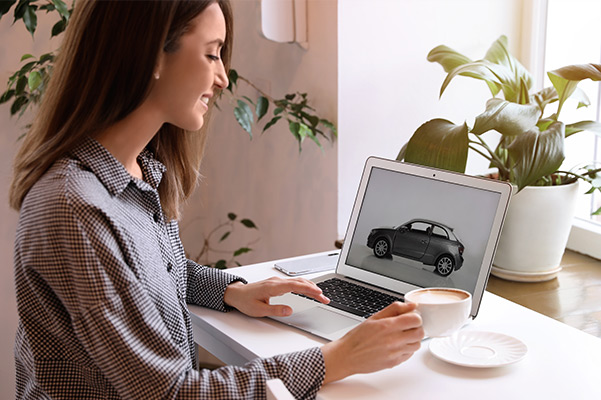 Buy a New or Used Ford from Our Team
When you're looking for a new Ford F-150 or you want to custom order a Bronco, we are here to help. With our brand expertise and laid-back sales approach, you're sure to love shopping with us. Shopping on a budget? We carry everything from used Ford commercial trucks to Ford Blue Certified Pre-Owned SUVs, so you're bound to find exactly what you're looking for.
On top of all that, you can rest assured that every vehicle on our lot has been looked at by our certified Ford service technicians, ensuring that the pre-owned truck or SUV you're purchasing is in great condition. You won't find this level of care from a national online car-seller, and a third-party seller won't have the industry training to provide this.
Why Buy From Terry Henricks Ford?
Customer satisfaction is our No. 1 priority. Compare our reviews to other local dealerships, then come experience for yourself how we've built and maintain our market-leading reputation.
Our Customer-First sales process aims to facilitate the smoothest and most straightforward car-buying experience on the planet. Starting with detailed walkaround videos of each vehicle up through our finance experts helping structure your perfect deal, our entire model revolves around meeting your unique needs!
We make it easy, no matter where you are. Our online shopping tools combined with available shipping and delivery options allow us to serve a wider footprint of shoppers with our unsurpassed selection of high quality pre-owned vehicles.
Let our vehicle acquisition specialists build, order, or locate your perfect vehicle. Don't let scarcity force you to settle on anything less than perfect. We can help you build your dream vehicle from scratch, or you can leverage our network of relationships to locate the new or used vehcile that meets your needs.
When you do business with us, you help us support our community. We're proud to support our community every chance we get. From sponsoring the county fair to getting involved with parades and local charities.