Looking for Ford Parts?
We Have Plenty at
Terry Henricks Ford

in Archbold Serving Defiance, Wauseon and Napoleon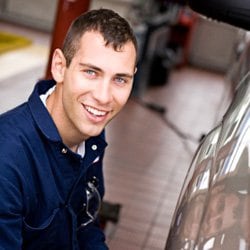 Find all the latest in genuine OEM Ford parts right here in Archbold, OH at  Terry Henricks Ford
There are a lot of things that Ohio drivers love about Ford vehicles, but undoubtedly one of the brand's main draws is its reputation for long-lasting durability. However, as reliable as Ford cars, trucks, and SUVs are, ever vehicle needs new parts at some point in time. So, when that time comes for your Ford vehicle, you owe it to yourself and your car to make our Archbold, OH Ford service center your first and only stop for genuine OEM Ford parts.
Why choose genuine OEM Ford parts over aftermarket parts?
There are a lot of places to buy car parts near Wauseon, Defiance, Delta, Bryan and Napoleon, OH these days, but if you're looking to ensure your Ford vehicle's quality and performance for years to come, genuine Ford parts from Terry Henricks Ford are really the only clear choice. Genuine OEM Ford parts are purpose built for your Ford vehicle, offering unparalleled quality and functionality that can help you achieve your car's full performance potential. Unfortunately, aftermarket parts are often more cheaply manufacturers than genuine OEM Ford parts, meaning you'll often find yourself replacing them sooner rather than later.
Let our team help you find the right genuine OEM Ford parts for your vehicle
Whether you're looking for a fresh set of winter tires for your new Ford vehicle or a new cabin air filter for the used Ford model you've loved for years, you can always count on finding exactly what you need here at  Terry Henricks Ford. Best of all, with our coupons for Ford parts and service, you may even be able to save a pretty penny on the genuine OEM Ford parts of your choice when you shop with us. And if you need any help installing your genuine OEM Ford parts, feel free to schedule your next service appointment online with Terry Henricks Ford today!